Wednesday, January 10, 2018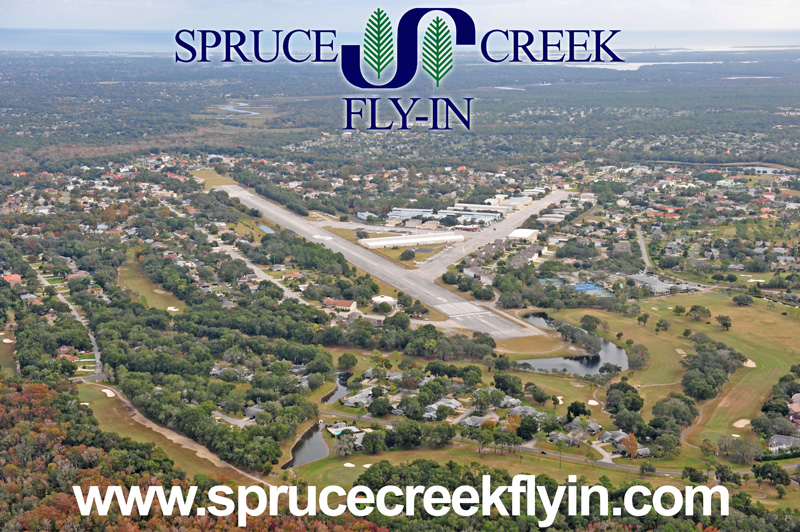 Nested in Northeast Florida, a few miles south of Daytona Beach and NASCAR's epicenter, the Daytona International Speedway, lies one of the most unique residential communities in the world. A community so unique that it seems has been immunized against the current real estate crash. A place where property values have held better than most parts of the country, providing a real life testimony to the old aphorism: "they just don't make them like that anymore..."
The Spruce Creek Fly-in Community is the world's most famous residential airpark. With a 4,000 ft lighted runway and a GPS approach, the private airport at the center of the community can accommodate anything from a Stearman to a Gulfstream.
Originally a navy airfield during WWII, it evolved into the world's largest residential fly-in community. Today, almost 5,000 residents, 1,300 homes and 700 hangars share a unique life in this private gated village with immaculately groomed homes and common grounds.
The first thing a visitor sees after driving through the security gates is a sign that summarizes the spirit of this community: "CAUTION Children and Adults at Play". Truly a piece of pilot's heaven. A championship golf course at the Spruce Creek Country Club and 24-hr patrolled security complements the safety, privacy and enjoyment of our residents. Frequent community-wide events and social clubs for most any interest from flying to book reading and gardening ensure a tightly knit and friendly community hard to duplicate anywhere.
John Travolta and many other celebrities have enjoyed the Spruce Creek Fly-In lifestyle and privacy. Current home prices vary from a $165,000 condo to several million dollar hangar mansions.
Airport Facilities
The Spruce Creek Airport (7FL6) has a 4000' x 150' paved lighted runway with a private GPS approach, fourteen miles of paved taxiways, Jet-A and 100LL Fuel, Aircraft Repair Stations, Restaurants, Real Estate Offices and many other commercial enterprises. The paved taxiways to the homes typically have fifty to sixty foot clearances to accommodate most private jets. See the Spruce Creek Airport section for more detailed information.
Getting Here
Check our maps and charts for information on how to get here by air or by automobile. Please keep in mind that any visits are by invitation only, as the community is not open to the public. If you are interested in real estate at the Spruce Creek Fly-in, contact us for an invitation and we will happily schedule a guided tour.
There is a home to suit almost every taste and budget. A large number of residents are not pilots or plane builders. They have purchased homes solely because of the safety and amenities the private village provides.
The homes range from modestly priced townhomes in the 160's to elaborate hangar mansions priced in the several millions. The home styles vary from condominiums or single-family homes on the golf course to townhomes with plane ports, single family homes on zero lot lines and, of course, homes with attached hangars ("hangar homes") and direct access to taxiways.
Some homes back to our own Spruce Creek and have boat docks. For those desiring to build a custom home, there are a limited number of lots available,
including some with taxiway access. Spruce Creek has an Architectural Review Committee to ensure that any proposed construction meets not only certain specifications but also the spirit of the community's general character. Contact us for additional information on Spruce Creek Real Estate.
Safety and Security
Spruce Creek is a private, gated community with 24-hr private security patrol. The entrance gates are manned by our security personnel who check-in and register all guests and contractors. There are security cameras at the gates which automatically record all activity. A record is kept of everyone's driver's licenses and times of entry. License plates are recorded as well. The airport is private, invitation-only. People rarely lock their doors. Kids can freely play in the common and nature areas and can be seen rollerblading or riding their bicycles in the paths.
Many celebrities reside here and appreciate the privacy and camaraderie of a close-knit community without having to worry about public mobs or paparazzi. Matter of fact, Tom Cruise stayed here with his then girlfriend, Nicole Kidman, while filming "Days of Thunder". There was no other place that offered the privacy and security that we have. While the community's spirit is playful and cordial, living in an airport comes with certain rules and common-sense safety procedures to keep everyone safe. Just like waterfront communities have safety procedures for boats, we do for aircraft. The Spruce Creek Property Owners Association takes safety seriously and has prepared a very informative ground safety video that illustrates what to expect while living in or visiting Spruce Creek.
Community Activities
The activities are endless: walking, rollerblading, bicycling and jogging on 14 miles of trails and taxiways, canoeing, fishing, swimming, tennis, golfing, learning to fly, watch nature
(we have deer, fox, eagles, hawks, turtles, the occasional bobcat and hundreds of other interesting species, including New Yorkers...
There also are many community social events, Over 20 specialty clubs (Bridge, Garden, Motorcycling, Flying, Book Reading, EAA Chapter, and others), Even pristine solitude for those so inclined.

Life at Spruce Creek
The sign that reads "CAUTION Children (and Adults) at Play"
is the first thing a visitor sees after driving through the security gates and it really illustrates the spirit and vitality of this special community. While the uninitiated visitor ponders the sign and enjoys the groomed grounds and beautiful homes,
little does he notice the activity behind. The community is masterfully designed so that from the main drag, Spruce Creek Boulevard, you hardly see a hint of what's behind the stately homes and beautiful townhome developments. Airplanes are everywhere... It is possible to drive in the community without realizing it is an airpark and yet there is a real airport and even a commercial area in the center of the expansive tree-filled grounds.
Newcomers are treated to parties where they meet other residents and quickly join in the Spruce Creek lifestyle. Mothers and families can borrow cribs, playpens and wheelchairs from Support Services and children are feted by the Children's Recreation Committee which holds periodic parties, outdoor movie nights, Easter Egg Hunt, the Back to School Party, the Summer Olympic Bash, the annual Fall Carnival feast, and of course, Christmas with Santa in December. Support Services also provides tents, chairs and tables for those occasional entertaining needs of the residents such as weddings and parties.
The "Toy Parade", held each December, showcases homemade "floats" made from everything imaginable: airplanes, automobiles, boats, motorcycles, golf carts and even antique farm tractors!. The floats are all decorated with Christmas motifs. In Spruce Creek, Santa Claus comes by airplane and Rudolph rides in the back. The largest event of the year is Wings-n-Wheels. Held in March, Wings and Wheels is a veritable air show and static display of aircraft, collector cars and motorcycles along with many activities for the kids (both over and under 50). Other events include the Spruce Creek Bonfire, the Daytona Beach Balloon Festival, and many more. There is also a Spruce Creek Online Community Network: The Spruce Creek Cafe, with free membership to all Spruce Creek Residents. Other Spruce Creek Online Resources: Follow Spruce Creek on Twitter, Spruce Creek Group in Facebook.
The Gaggle Flight meets every Saturday morning in the ramp area by the "Big Tree". Pilots brief and setup formation groups to fly to breakfast destinations in nearby airports. During special events such as Memorial Day, the Gaggle's "missing Man" formation is a favorite of the surrounding municipalities which reserve the all-volunteer fly-overs well in advance and much to the delight of the public.
The "Big Tree" is also where neighbors have impromptu get-togethers to sip a glass of wine and share hors d'oeuvres at the end of the day while watching the sunsets and airplanes landing.
In this neighborhood, an open hangar is an invitation to stop and chat. The pace is laid back and on any weekend you can see many opened hangars displaying personal treasures, not all of them aircraft. Among the diverse motor homes, car collections, workshops, boats, pool tables and others, we find the common thread: "share the passion". In the end, the Spruce Creek motto says it best: "Live, Work and Play in the same spot."
What's Nearby Spruce Creek?
Watch some videos about Spruce Creek, from a Cessna Citation Landing to Aerobatics in the vicinity of the Spruce Creek Airport.

See ALL The Properties For Sale in Spruce Creek:
HANGAR HOMES

GOLF COURSE HOMES

NATURE HOMES

CONDO VILLAS

VACANT LOTS

HANGARS

RENTALS
KARLHAUS REALTY
386-788-1988
0 comments: