Tuesday, April 29, 2008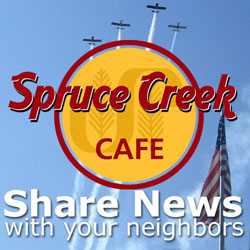 SPRUCE CREEK - The Spruce Creek Journal launched today the Beta version of the Spruce Creek Cafe, a social online network exclusively dedicated to the Spruce Creek Fly-in Community. The network is open for free membership to all residents, friends and families of the Spruce Creek Fly-in.

Members can post and share in discussions, create personal blogs, create and join specialty groups, post events, classifieds, photographs and videos, ask open questions to the membership and much more. Members also may have customized profile pages and are able to message each other. Email addresses are only shared to those the member allows and the system prevents spamming.

The Spruce Creek Cafe is the place to see and be seen by neighbors and friends of the fly-in. It is designed to work as the community bulletin board at the local cafe, the daily news obtained at the local diner, or the sidewalk conversations with neighbors as they go about their day. Neighbors and their stories and photos, are featured so that they can share who they are and what they are doing.

Located Port Orange, Florida, the Spruce Creek Fly-in is the world's largest residential Airpark.


3 comments: