Wednesday, June 25, 2008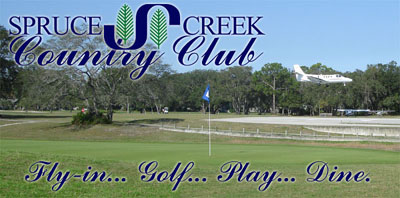 SPRUCE CREEK - The Spruce Creek Country Club at the Spruce Creek Fly-in community has extended a popular offer to new members. During this special promotion, the club will waive the regular initiation or equity fees to all who want to join and apply for membership.

New members will reap savings of several thousand dollars compared to the regular fees. The special promotion has been extended to August 31, 2008.

For more information, contact Michelle, Spruce Creek Country Club Membership Director, at (386) 756-6116


Golf is a great and glorious game. Even those of us who earn our livings at it play it more for the pleasure than for the money.


Arnold Palmer
About the Spruce Creek Country Club...
With a championship 18-hole course winding through wooded fairways and an established clubhouse with adjoining tennis courts and swimming pool, the club has the amenities to allow its members enjoy life to the fullest in the Spruce Creek Fly-In.

The Club's activities revolve around its gracious clubhouse with lounge, formal dining room, dance floor, and superb dining and beverage service. Outside the Clubhouse is a large swimming pool complete with pool house, gazebos, and changing and bath facilities. The pool's large sunning deck is usually teeming with guests enjoying social activities. The club also offers a well-equipped fitness center staffed by certified trainers.

The Spruce Creek Fly-in Community is the world's most famous residential airpark. With a 4,000 ft lighted runway and a GPS approach, the private airport at the center of the community (Florida Airport 7FL6) can accommodate anything from a Stearman to a Gulfstream.

Originally a navy airfield during WWII, Spruce Creek evolved into the world's greatest residential fly-in and golf community. Today, almost 5,000 residents, 1,300 homes and 700 hangars share a unique life in this private gated village.


0 comments: